By Michael Calvert
As a general rule grazed grass is a quarter of the cost of purchased concentrates and half the cost of conserved forage. Capturing this cost advantage and turning it into profit has rarely been more important than it is today.
Grazing enthusiasts have, for many years, encouraged farmers to use plate metering to help them to manage their grazing platform. This data is important, but it doesn't really tell us much. Therefore, we use grass management software (e.g. AgriNet) to help us match the amount we expect animals to eat with the amount already grown and what we expect to grow. The goal is to maximise the intake if highly digestible and inexpensive grazed grass with the least amount of in-field losses.
Importance of rotation length
Rotation length is one of the most crucial elements of grazing management and poor decisions will be made if it's not properly managed within the software. Set wrong and it will predict that too much or too little grass will be available to meet the demand from the grazing animals.
Rotation length is the speed at which we move around our grazing platform. If we look at a field that is grazed to a cover of 1500kgDM/ha, we want our animals to be back in it again with a pre-graze cover of 3000kgDM/ha.
Any more than this will jeopardise digestibility and any less will reduce intake. If the average growth rate across the farm for the next few weeks is 70kgDM/ha/day, it should take around 21 days for that field to be ready to graze again. There will be times at peak growth where it may only take 15 days for fields to be ready to graze again, but this period may not last very long.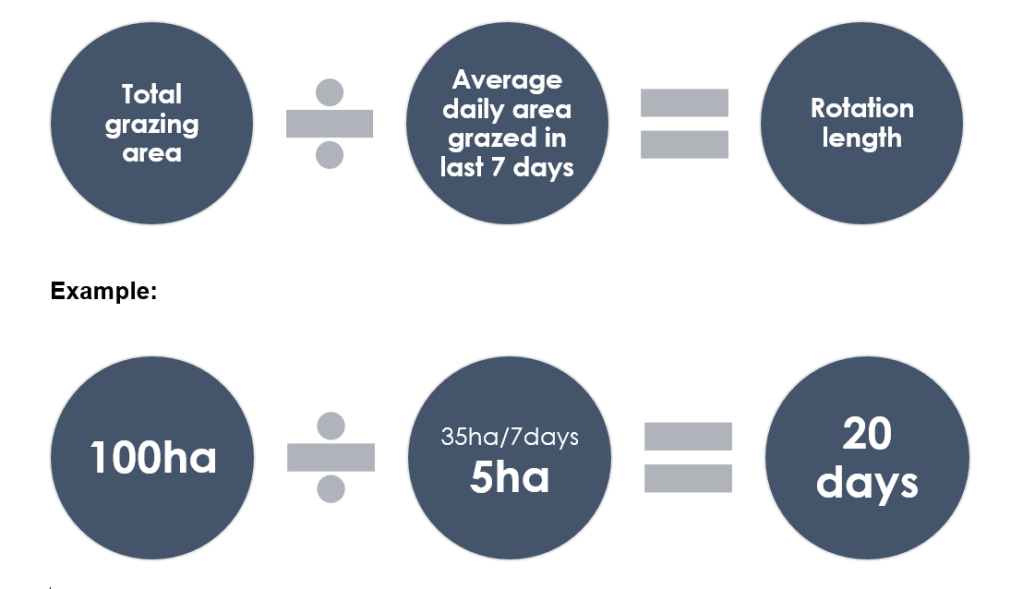 The ideal rotation length will change throughout the season due to changing growth rates and what you are looking to achieve: build average farm cover, maintain it or have surplus grass. It is important to always bear in mind the next phase to reduce the risk of shortage or excess. As growth and demand fluctuates it is really important to monitor and plan regularly.
The diagram below indicates rotation length guidelines during different growing phases. Although these will vary from one farm to the other and across geographical regions.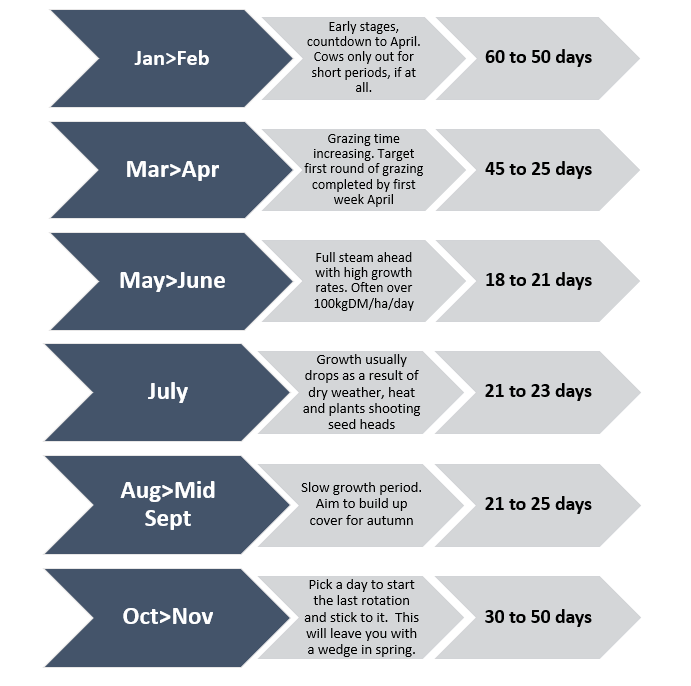 It is vital that you monitor your last 7 days rotation length against your target. If you are moving too slowly, taking out surplus grass can prevent your cows from going into covers over 3000kgDM/ha/day and wasting grass or not hitting your target residual cover.
The reverse applies if you are moving too fast. Bringing in some silage aftermaths is a great way to increase rotation length as you move towards the autumn. Other options include buffer feeding and concentrate feeding.
By monitoring your rotation length, you will get a head start on knowing your potential grass supply and demand issues.
This often allows you to take simple, low impact steps to address issues before they get out of control. Increased utilisation of cheap grazed grass is a well-proven, cast-iron approach to reduce the cost of production. With current milk price pressures, it is hard to see a more appropriate strategy to pursue.