DEFRA is now inviting agricultural businesses in England to apply for its Productivity and Slurry grants, as part of its Farming Equipment and Technology Fund 2023. You can apply now for specific items of equipment and technology for farming, horticultural or forestry.

Here's a quick and simple guide to the application process.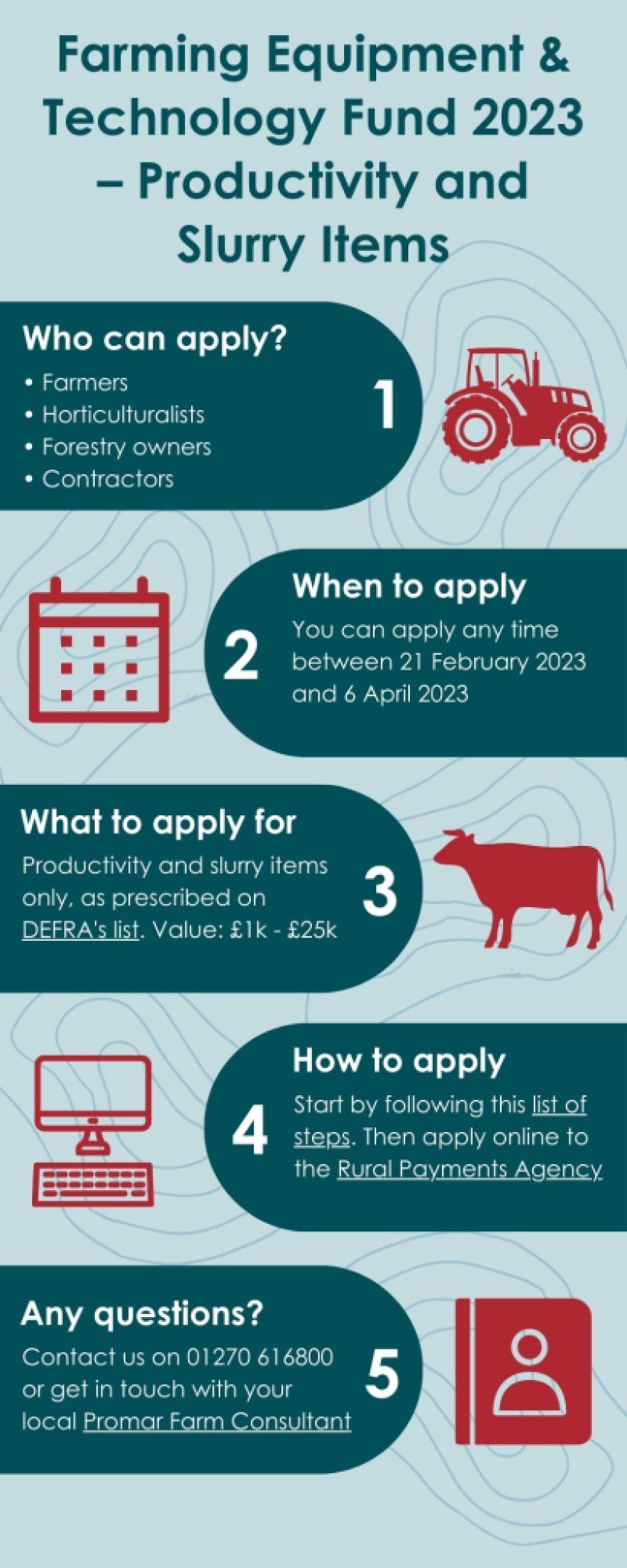 What is the Farming Equipment and Technology Fund?
The Farming Equipment and Technology Fund is designed to help farmers and agricultural businesses invest in new technologies and equipment that will improve their productivity and efficiency.
The fund has two strands:
Productivity and Slurry
Animal Health and Welfare (which will open for applications in March)
Who can apply?
You are eligible for the grant if your business is in England. You must be a:
Farmer
Horticulturalist
Forestry owner
Contractor who carries out services to farmers, horticulturalists or forestry owners
What can you apply for?
Details of eligible productivity and slurry items are on the DEFRA website. Decide which pieces of kit on the list best suit the outcomes you wish to achieve. For example, if you are looking to reduce your fertiliser costs, you might want to fund a slurry separator or a dribble bar to make the best us of the slurry on your farm.
If you're undecided, contact us at Promar? Our consultants have strong knowledge of the Farming Equipment and Technology Fund and can help you identify quickly the items that would suit your business.
Application dates, and allocating funds
Applications for Productivity and Slurry grants opened on 21st February 2023, and will close on Tuesday 4th April 2023. Grants will be competitive and will depend on how many points you score in your application. The Rural Payments Agency will score your applications.
If the scheme is oversubscribed DEFRA will allocate money based on your average scores. The higher the score the better, so it's important to submit a good-quality application.
How to apply
To prepare your application, follow this list of steps. Then make your application online to the Rural Payments Agency. If have everything in order before you apply, DEFRA reckons your application will only take you 20 minutes to complete.
In order to apply your business must be registered with the Rural Payments service and must have a Single Business Identifier (SBI). For full details, see How to apply for a Farming Equipment and Technology Fund 2023 grant.
DEFRA urges anyone who was unsuccessful in last year's first round to apply again this year.
Spending more time in front of your screen
DEFRA says that it is straightforward to apply for the scheme, and that it will be quick and easy. However, this supposes that you know your objectives, the items you want to apply for, have checked their availability with your supplier, that you have suitable IT connectivity, and that you have all the essential registrations in place.
Unsure about any of this process? Pressed for time? Contact Promar straight away. We'll put you in contact with your local consultant, who will give you free and impartial advice and help you to focus on the items that will best suit the needs of your business.
Contact us
Contact us by phone on 01270 616800 or fill in the form below and your local consultant will call you back as quickly as possible.