Farm Consultancy
Cut through the fog and find a clear perspective
Farmers are unique in that they are not just close to their business, they are surrounded by it and live it all day, every day. Living this close, it's hard to maintain a clear and objective perspective and see potential that could be realised. We all know how difficult it is to see the wood for the trees.
Standing back and delivering perspective is precisely what our farm consultants do. We are proud have been providing independent, un-biased and practical advice to farmers for over 50 years.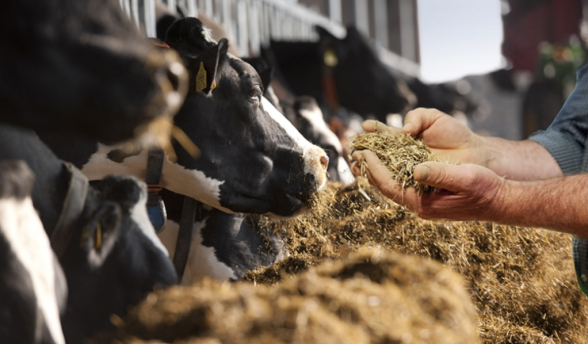 Sometimes it's tough to hear, but it pays to listen
Promar farm consultants work throughout the UK and overseas with progressive and profit focused farmers. We specialise in dairy farming but are equally qualified and practiced to work with all types of farming enterprises.
Nutrition, breeding, replacement rearing, health and biosecurity are some of the elements we would seek to optimise in order to increase farm profitability. Closely allied to nutrition and improving efficiency is our ability to promote and develop sustainable forage production.
Whether you are looking for a budget for the bank to plan your farm businesses expansion or to predict your cash flow, we have specialised software and comparative information (benchmarks) to help your farm business decision making. You can find out more about our farm finance consultancy on our finance page.
Why our clients trust us
Our clients are continually looking at how they balance many competing demands for time, money and meet the needs of demanding stakeholders. It probably feels that the demands on you keep increasing. Lenders demand more information to provide the finance you need. Staff want more engagement to provide their labour. And your customers need a lot from you to demonstrate you are producing in a sustainable way.
A typical engagement with a client, for our farm consultancy service;
Implementation monitoring and support
We constantly seek to measure success on the farms we work with. Milkminder Dairy Costings and our Farm Business Accounts service are an integral part of the support we provide.
In addition we provide help with:
Engagement with the farm team
Analysis and interpretation of milk recording data
Budget monitoring and financial reporting
Feed planning, nutrition and feed analysis for all types of stock
Nutrient planning for all farm crops
Compliance (e.g. NVZ, Herd Quality System)
On top of this customer, demands are increasing, margins are often tight, and it can be difficult to choose the right solution. Our independence allows you to trust the advice we give is in your best interest.
Most of our clients work with a lead farm consultant who is there to get under the skin of your farm business and your goals. They are supported by the larger team of farm consultants with specialist knowledge and expertise.
Infrastructure Audits
We provide support for full planning applications including research into planning policies, agricultural appraisals, drawings and plans.
A detailed analysis for implementing and changing livestock buildings, ancillary agricultural infrastructure – reservoirs, slurry stores and grain and machinery stores. We recognise that it is important to plan for future changes ensuring that your farm business has the correct facilities for legislative reasons or diversification opportunities.
Liaising with your builder and ensuring policy is followed prior to applying can be timely. We ensure the process will be carried out correctly saving time and money.
We can provide comprehensive, pragmatic and cost-effective advice on yards, water, slurry, silage, manure and track management and many other infrastructure-related issues. A written report will be included that emphasises recommendations, plans and maps. These can be used for Water Capital Grant Scheme applications.
Waste Management
A farm consultancy service that provides you with a detailed analysis of your current waste management, including removal of waste, pesticide application, and inorganic fertiliser handling and storage.
On farm waste ranges from plastic, rubber, pallets, oil filters, material containing asbestos, pesticide and fertiliser containers to inefficient storage causing leakage into waterways and inefficient application of fertiliser and pesticides.
Ensuring you are in line with legislation can be timely and difficult to understand especially when the way you run your business is mainly determined by The Waste Management Regulations 2006 (SI 2006 No. 937), therefore the need for trained BACS and FACTS qualified consultants is high.
It is important that farming is sustainable and poses no environmental or biohazard risk. We are aware that slurry production is a big issue due to high storage and spreading costs.
Advice can help to improve efficiency, reduce cost and aid better compliance with regulations. Benefit the environment and drinking water sources by reducing run-off and leaching of nutrients and other pollutants into water sources.
Mistakes where legislation is breached can be costly to farm businesses both economically and environmentally.
We will carry out a review of current management practices, evaluating the type of waste, quantity and storage costs. Followed by identifying the waste source and the current route of disposal.
We shall carry out research to see if there are any opportunities to avoid the level of waste and look at options to reduce waste by technical system changes or other management techniques.
Some of these technical and management system changes may include minimising pesticide usage, alterations on rate of application and timing of spray and timing of inorganic fertiliser application.
The main aim is to either minimise, reuse or recycle waste lowering overall costs reducing the need to purchase additional raw materials.
Milkminder
Milkminder is a dairy management tool which provides both financial and technical data, helping you to make informed decisions relating to your dairy business.
Milkminder is easy to use with facilities to input your own information online or one of our team will input it for you to produce your monthly reports.
Milkminder features include:
Clear and concise monthly reports on your milk production, feed usage, stocking rates and profit margins
Monthly benchmarking to allow you to see where you stand in comparison to other dairy farmers in your area
Annual summaries and accurate forecasts to help you budget and plan for the coming months
Information is easily accessible, reports are clear and simple to interpret.

"Milkminder is a quick and easy benchmark of the dairy herd technical performance which allows us to monitor progress and highlight areas of opportunity"

Roger Hildreth Hessay York
HerdWatch

HerdWatch is an add on product that allows farmers to have a keen eye on milk production and fertility. Full sets of fertility analysis reports are included as well as milk production predictions for the whole herd.
Global Projects
Currently work is being done to facilitate the growth of the global dairy industry by improving operational efficiency and productivity of dairy producers. In the last three years we have undertaken large dairy farm consultancy projects in Sudan, Russia, Ukraine, Italy, Turkey and Oman.