By Victoria Craig-McFeely
With feed costs making up the largest proportion of variable and total costs on a dairy farm, it is important to measure the efficiency with which feed is converted into milk. Feed Conversion Efficiency (FCE) is a term worth knowing and understanding. It is simply a measure of how many kg of milk you get for every kg of dry matter (DM) consumed. The more bangs (litres) you get for every "buck" you spend on feed the better.
The graph below illustrates total feed cost in the dark columns and the amount that can be saved by achieving excellent feed efficiency in the light columns. An average producer achieving an FCE of 1.2 would save £42,000 per year by moving performance to achieve an FCE of 1.5.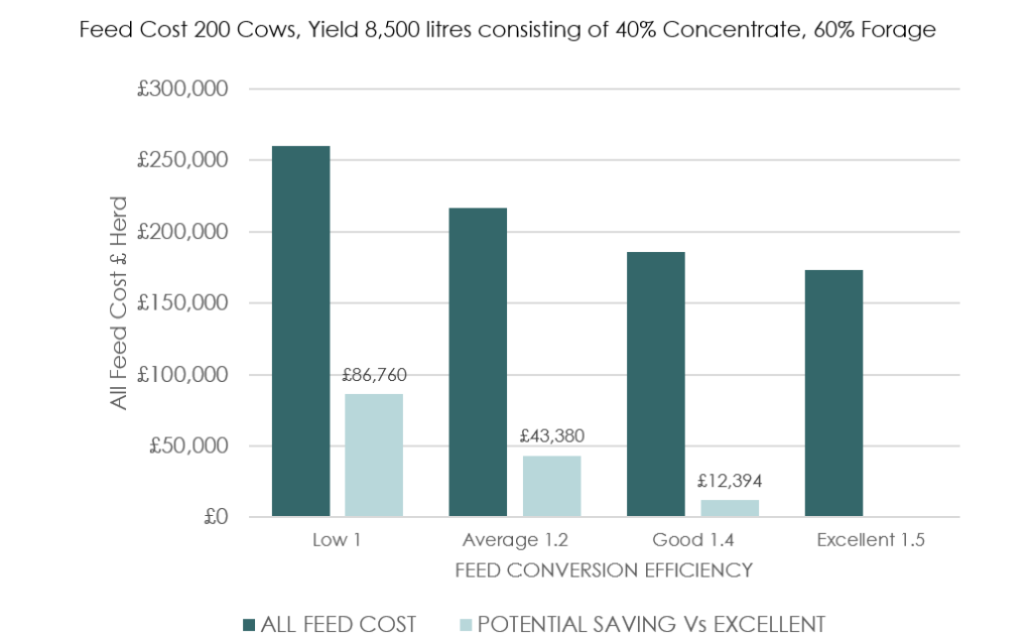 As a general rule of thumb improving FCE by just 0.1 will reduce feed cost by 1 pence per litre.
FCE should always be used in conjunction with other on farm physical performance measures and financial performance measures. This is especially important as getting a truly accurate FCE is tricky (nigh on impossible with grazing systems). In very accurate situations where feeder weights and refusals are recorded with accurate DM for the feed, FCE can be accurately calculated and benchmarked.
Fundamentally, regardless of what your FCE number is, it is how to change and improve upon it that is key; there is always room for improvement.
Influencing feed efficiency
There are 8 ways in which feed efficiency can be influenced:
Improve feed digestibility – the higher the quality of feed offered the more will be converted into milk, as more is digested. Making awesome silage in the first place is essential.
Stage of Lactation – days in milk (DIM) influences FCE. In early lactation, FCE can be artificially inflated as the cows are likely to be mobilizing some body condition and using that energy to produce milk. Low yield/late lactation cows divert a greater proportion of their energy to maintenance.
Maintenance Requirements – grazing cows will have greater maintenance when out at grass compared to those housed. Bigger cows also use more feed for maintenance and don't always produce you extra litres.
Lactation number – those in their 1st lactation will use more energy for growth than milk production until they reach mature body weight.
Cow comfort – increase in stressors will lead to more energy being used for maintenance over milk production.
Remove 'passenger' cows – those stale, barren and late lactation cows are least efficient and will artificially lower the FCE value, along with costing you more in the milking herd than you may get from them.
Reduce Disease – any health stress, be it mastitis, lameness or metabolic has a negative impact on FCE as energy is diverted to fight the disease. Healthy cows convert more of the nutrients ingested into saleable milk.
Reduce Feed Waste – feed is wasted because it never reaches the cow in the first place or doesn't get eaten. Intake can be depressed because insufficient feed is made available. Managing this balance is key to improving FCE.
Only the FCE of the group being measured (usually the milking herd) can be calculated at any point in time. The overall herd FCE or overall farm FCE (which would include youngstock) will be different so if you are benchmarking FCE make sure you are comparing like with like.
FCE is also an important factor impacting on a farm's greenhouse gas emissions – this is because those with a higher FCE can be expected to produce less CH4 and N2O per litre of milk produced. This results in lower carbon emissions for that farm.
Evaluating feed conversion efficiency isn't straightforward but this doesn't mean it should be ignored. There is a lot that can be done to estimate a measure on most farming systems and even more that can be achieved to improve it.