Farm Finance Consultancy
Helping you control the numbers so they don't control you
Farm Finance Consultancy is for those of you looking for help with management accounts, financial planning, farm budgeting and funding advice, we have the tools, expertise and experience you are looking for.
Whether you are looking for a budget for the bank to plan your expansion or to predict your cashflow, we have specialised software and comparative information (benchmarks) to help your business decision making.
Over 1000 farmers choose us to produce management accounts. This means they have reliable, timely and accurate information to monitor and control business performance.
Farm Business Accounts
Farm business accounts are valuable in providing farm finance consultancy. Farm Business Accounts is an accounting service that provides a complete set of financial accounts with;
Detailed enterprise performance breakdown
Ability to monitor actual performance against budgets and prior year performance
Full compliance with MTD VAT Submissions
Accounts that can be passed on to your accountant
Our clients choose Farm Business Accounts to get answers
Fundamentally a business needs to make a profit to provide a living and generate income to support investment in the future.
To save time, aid financial decisions, manage cashflow, pinpoint accuracy and enable easy analysis of financial data.
We offer two options with our Farm Business Accounts service.

Most of our clients use our full bureau service where our trained and experienced farm business analyst will visit your farm monthly to input your data into the accounting software.
At the end of the financial year we provide a comprehensive report with a detailed breakdown of the performance of each one of your enterprises together with conventional accounting reports.
Please read the latest press release from our Farm Business Accounts service data on: Attention to detail and productivity more important than ever
Wages and Salary
Our Farm Business Analysts can aid you in calculating wages and salaries, bonuses, overtime and payroll taxes.
This is done via our PAYE service and includes;
Financial Planning
Business planning is all about trying to predict what will happen and how your business can take advantage of future opportunities and mitigate risks. We use our in depth industry knowledge, past experience and bespoke software to predict with greater clarity your income and expenditure over a specified period.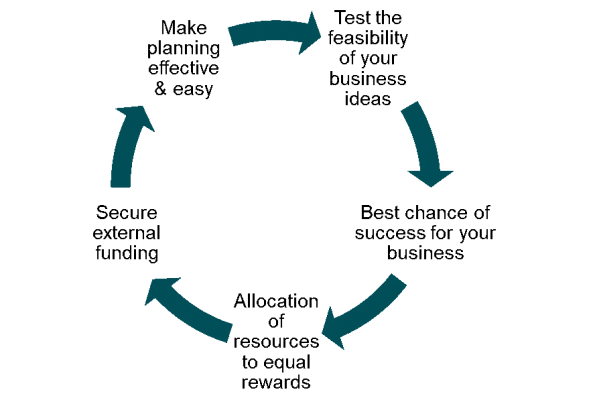 Our budgeting process always starts by assessing your needs and ambitions. Since 1962 we have developed tried and tested methods to build budgets from the ground up by considering physical factors such as cropping, stocking, enterprise performance and the levels of overhead costs. Budgeting is more than a static prediction we will work with you to provide a wide range of options to help optimise the best way forward for your business. We make use of comparative (benchmark) information to challenge assumptions used in the budget.
Analysis and Appraisals
"If you don't know where you come from, then you don't know where you are, and if you don't know where you are then you don't know where you are going. And if you don't know where you're going, then you're probably going wrong"

Terry Pratchett
Promar business analysis and appraisals are designed precisely to enable you to understand where you are and how you can improve.
In practical terms analysis and appraisal of any business will consist of most of these steps.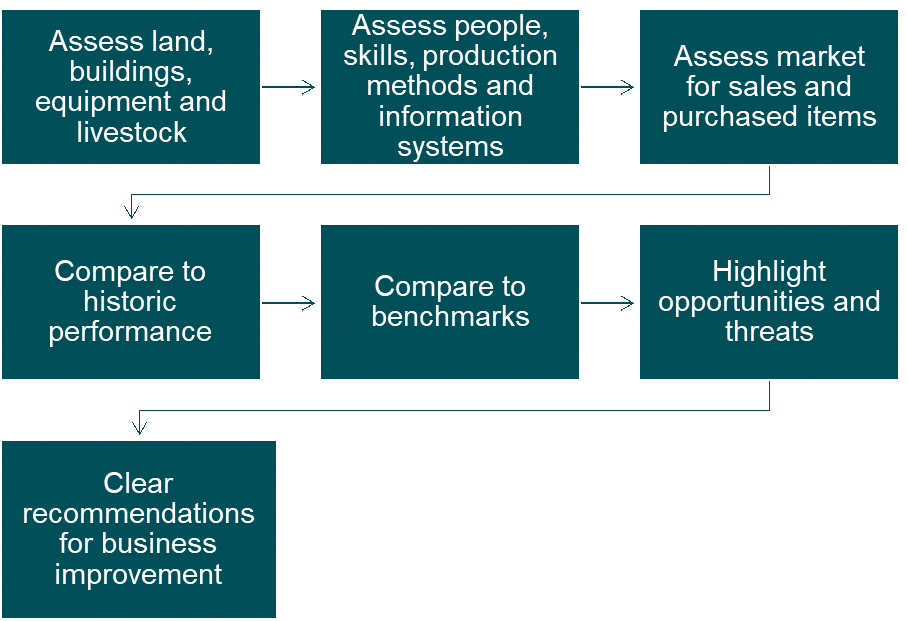 If you want to get better it's impossible to know what needs improving without understanding the strengths, weaknesses, opportunities and threats you face.
We have a specialist in your region to help you with your business planning requirements