By Sarah Jones
From goat chats to box schemes, the Covid pandemic has brought out British agriculture's creative and entrepreneurial spirit to innovate.
Using Zoom for online meetings, family quizzes and beer o'clock with friends might have become normal for us over the past few weeks, but one inventive Lancashire farmer is making online calls anything but ordinary — thanks to her herd of goats.
#GOATSONZOOM is the brainchild of Dot McCarthy who runs Cronkshaw Fold Farm, an upland farm in Rossendale.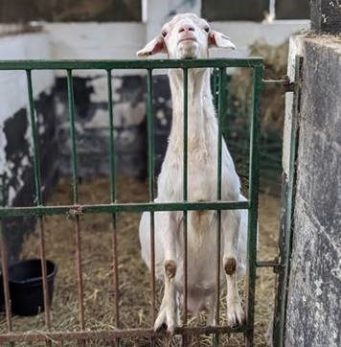 Last month, she shared her idea on her family farm's Facebook page, explaining that for a small fee (and with a little help from Dot), one of her goats could dial into a Zoom call, bringing a new face and some fun to the conversation.
The post reached more than 90,000 people, and bookings quickly rolled in from around the world.
So far, her goats have appeared in church services to ukulele player groups and baby announcements, spreading happiness amongst customers and their friends — and bringing in some welcome revenue to the farm in the process to fund renewable technologies on the farm.
Entrepreneurial spirit
There's nothing like a global pandemic to showcase the hard work, entrepreneurship and caring nature of Britain's agricultural community.
Like many people, I've felt quite challenged by a lot of the news recently, but hearing stories about what farmers have been doing in the face of the covid have really lifted my spirits.
And Dot's not alone in her creative endeavours: We've seen the Young Farmers' toilet roll challenge on social media, the Arla Cravendale challenge, and messages of support to the NHS written on everything from fields to sheep.
Meanwhile, the #VitaminN campaign led by many organisations, including The Nature Friendly Farming Network, has been encouraging members to share videos of nature on their farm so that people are currently can't go outside can see the countryside via social media.
As an environmental consultant, it's always great to see farmers talking about the biodiversity on their farms, and this is a great opportunity not only to share some joy, but to also showcase what farmers are doing to enhance and preserve the natural environment.
Collaboration and cooperation
But it's not just farmers' and food producers' efforts to lift spirits that have come to the fore these past few weeks; their entrepreneurial nature has also been great to see.
Customer-facing local food businesses such as farm shops, local veg boxes and milk delivery shrives have all benefitted from people breaking their normal shopping habits and buying food more locally.
This sudden increase in demand has led to collaboration across businesses. Locally to me, I've seen butchers and bakers working together, and local food delivery services like British Food Box and The Modern Milkman adding more products and services.
Other companies, like Cheshire Clotted Cream and the Hollies Farm shop have been sharing resources such as vans to make deliveries.
It's also been interesting to see big business ideas transformed to the farm gate level in terms of maintaining consumer and worker safety.
From online shops to click-and-collect, as well as drive-thru farm shops, like the service offered by Berts Barrow near Skipton, local, small enterprises have moved quickly to set up new ways of doing business.
These stories have been inspiring to my family, who run a livestock and arable farm alongside a farm shop.
We've been facing challenges as a result of Covid-19, and in a currently unsocial world social media has given us reassurance that other farm businesses are coping in this new world of operating differently.
Joining in on the #VitaminN campaign has helped us step back and take a moment to enjoy nature on the farm, and connect with our customers in new ways.
Of course, having fun and making people smile is important at the moment, and is giving my family food for thought — we can take these lessons to work with us tomorrow, and help make sure that we are continuing to support the public even when the way we usually support our customers has changed.