By Jonathan Hill
When Promar Principal Consultant Jonathan Hill started working with Chris Hobson three years ago, the aim was to improve the technical performance of the dairy herd by making more milk from forage, particularly grazing, little knowing how important that was going to be in the current economic climate.
Chris farms a tenanted farm near York where he runs a herd of 350 crossbred cows, with an average of 320 in milk. Yield per cow is currently 7330 litres with 2874 litres from forage and an annual feed rate of 0.31kg/l. Chris runs the dairy unit with herd manager Russell Clegg.
The grazing platform totals 64 hectares over 16 paddocks varying in size from 2.5-6 hectares. Reviewing the grazing platform, Jonathan identified the need to improve the layout, weed control and water supply and, by putting in extra tracks, improve access and flexibility.
A 12-hectare paddock has now been split in two to which access has been altered using fencing along the headlands of other paddocks so cows no longer access through another paddock, meaning covers can be managed better. Most recently water supply has been improved to prevent queuing at the troughs.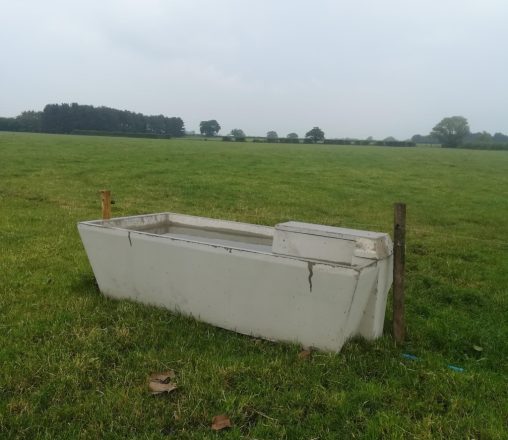 In 2019 Jonathan started measuring growth using a plate meter, producing a grazing wedge to manage covers better.
The cows have been challenged to produce more milk from grazed grass, having been pushed to graze more effectively over the last two years with no trough feed. Herd manager Russell commented this spring that the cows have "learned" to graze this year and are not looking for the trough mix.
In addition, to drive overall forage use and allow increased accuracy of feeding, on Jonathan's advice Chris installed out of parlour feeders in 2018, allowing a reduction in the concentrate in the trough mix and more feeding to yield.
Over the last three years, Milkminder results show that yield per cow has risen by 350 litres, increasing total output by over 122,000 litres but milk from forage has increased by nearly 250,000 litres.
This year, like many farmers, Chris was faced with falling milk prices due to the disruption of the milk market as a result of COVID 19. But by turning cows out onto high-quality grazing it was possible to stop all trough feeding leading to a reduction in feed costs from 6.5ppl to 2.9ppl, a saving of 86p per cow per day. Milk yield per cow actually rose marginally and despite a fall in milk price, herd margin has increased by £300 per day.
The clear objectives to make more from forage, combined with measurement of grass growth and regular monitoring of performance using Milkminder, have helped Chris, Russell and the dairy team improve herd performance. Through an increased confidence in grazed grass and encouraging the cows to graze better in 2020 has helped the unit ride out the initial challenge created by the disrupted milk market.