By Alastair Johnston
The UK agriculture industry has hit headline news this week as ministers unveil the next steps in England's farming policy. The new Environmental Land Management (ELM) scheme will be introduced to incentivise sustainable farming practices, creating habitats for nature recovery and making landscape-scale change, such as establishing new woodland and other ecosystem services.
Whilst the details for the scheme post-2024 are yet to be revealed, we are able to define what the industry will look like from the 1st January 2021. Looking at the information available, we have put together some guidance on the new transition plan and what impact it will have on you as an individual and on the whole sector.
The post-EU Vision
Firstly, I think it's important to review and understand exactly what the end goals are and what Defra hopes to achieve by 2028. It is a move towards a renewed agriculture sector, producing healthy food for consumption at home and abroad, where farms can be profitable and economically sustainable without subsidy.
What does this mean for farmers and their business? The set aims outlined by Defra include:
running sustainable businesses that do not need to rely on public subsidy
managing the whole business in a way that delivers profitable food production and the recovery of nature, fusing the best modern technology available today with the rediscovery of the traditional art of good farm husbandry
the ability to access public money to help them deliver environmental and animal welfare outcomes on the land they manage and to help their businesses become more productive and sustainable
meeting clear, relevant and outcome-focused legal standards that champion UK food internationally, prevent environmental harm, protect biosecurity and protect animal welfare
The development of direct payments
One of the most vital changes to review is the gradual reduction of untargeted Direct Payments. From 2022 to 2023, we will see a notable drop in total spend on Direct Payments by around 15% per year.

In 2024, following consultation, Defra plan to delink Direct Payments completely from the land. They will then phase the residual payments out, with the last payments made in 2027.
Delinked payments will be calculated fairly, based on a reference period. Instead of using cross-compliance as the basis for regulation and enforcement, there will be a move to a new approach that will be co-designed with the sector.
DEFRA will make further simplifications to the 2021 Basic Payment Scheme, including:
removing the greening rules, as announced in July 2020
removing the requirement for farmers to use all Direct Payment entitlements at least once every two years
removing the requirement for farm businesses with land in England and another UK nation to have all their land treated as one 'holding' for the purposes of the Basic Payment Scheme
extending the application period for force majeure applications to 8 weeks
What we know about the new scheme
The scheme will support a new approach to help farmers invest in environmental and productivity improvements. Defra will offer grants to farmers who are working towards improving the environment, animal health and welfare and reducing carbon emissions.
There will be three levels of support. Some options will be universally open to all farmers and land managers, while others will be more targeted at a small number of large projects.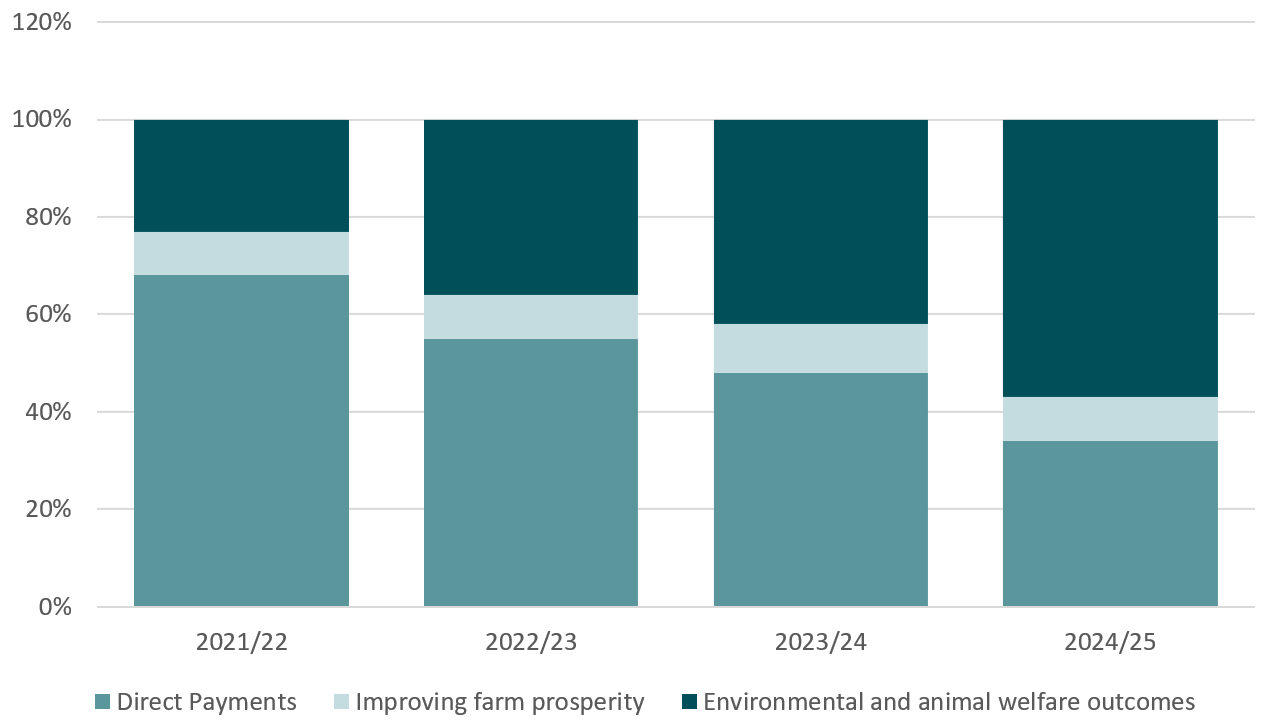 What other schemes and payment opportunities will there be?
There will be significant grants made available to support farmers to reduce their costs and improve their profitability, to help those who want to retire or leave the industry, and to create new opportunities and support for new entrants coming into the industry.
From 2020, the sustainable farming incentive will too support the core elements of Environmental Land Management. From improving soil health and enhancing hedgerows to promoting integrated pest management, funding will be available for those adopting a sustainable approach to farm husbandry.
From 2022, Defra will also offer a slurry investment scheme in order to help reduce pollution from farming and contribute to the 25 Year Environment Plan and net-zero commitments.
Furthermore, there will be some new, standalone programmes to support trees planting, peatland, restoration and nature recovery. These will be consolidated within the new Environmental Land Management offer after 2024.
Finally, Defra will be launching a new industry-led innovation, research and development scheme to invest in innovation and ensure there is practical translation of world-leading research in agriculture, so that it can directly benefit farmers.
Improving farm prosperity
It is undoubtedly going to be a big change for the industry and in order to succeed, there is a need to get your farm business ready for the agricultural transition. Our farm consultancy and business accountancy teams are on hand to offer advice and support to help farmers plan for this new era of change. We can help clients to review budgets, obtain funding from the environmental scheme and look at their natural resources.
Click here to get in touch.
Keep an eye out for further information about the next steps in England's farming policy and how we can help.