By Laura Tucker & Frances Metcalf-Head
Agriculture has traditionally been viewed as a male-dominated industry, with women typically seen to be in the background. That's rapidly changing, with momentum building and perceptions evolving over the previous decade.
Nearly one in five farmers are now women, with the number rising all the time. In higher education courses, women agricultural students even outnumber men almost two to one, making up 64% of the 2017-2018 graduates. These are certainly noteworthy developments and ones that wouldn't have been possible without the determined and inspiring women who have put a stamp on the agricultural industry.
62% of our business is made up of women – two, of which, have recently joined our graduate scheme. While they come from varied backgrounds and have different experiences of the industry, both are very passionate about agriculture and are making their mark.
Following on from International Women's Day, we thought it'd be a perfect time to hear from our two female graduates and their perspective on the evolution of a woman's role in the industry.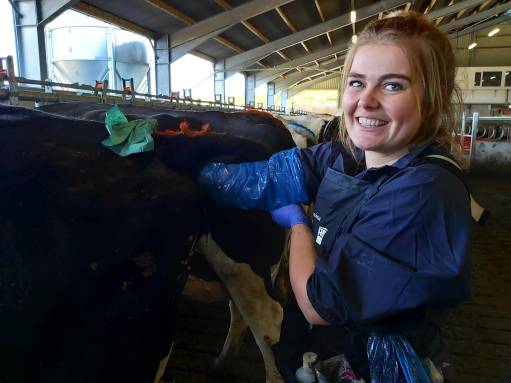 Laura Tucker, Graduate Management Trainee
I grew up on a mixed family beef, sheep and arable farm on the most southerly tip of Devon. I am one of five siblings and all three of my sisters have little to no interest in agriculture. I, however, was the toddler having a tantrum at the door every day my dad left the house without me and have always wanted to be involved with the farm.
After school, I went to Harper Adams, where I studied BSc Hons Agriculture with Animal Science. It was here that I found a passion for livestock reproduction and fertility. Whilst I often got questioned about wanting to study agriculture, my resilient attitude led to the creation of an award-winning dissertation and the completion of further courses around DIY Artificial Insemination and Telescopic Vehicle Operations.
From there, I joined Genus as a relief technician and have since accepted the opportunity to enrol on the graduate scheme.
Embracing the opportunities
The host of opportunities available is what makes this industry exciting for me. I think traditionally women haven't been key influential figures and I've found that farm reps have commonly asked for the husband/farmer as they presume that they're the decision-makers. In my own experience, I have been pre-judged on my capabilities and strength – particularly when it comes to handling cattle.
Despite this, I do think things are changing and there are far more possibilities out there for women. It's great to see more females being recruited for AI roles and to prove to those who doubt us, just how capable we are. It's an exciting time to be a part of agriculture too. There are some brilliant initiatives available, including Genus' AWAKE movement allowing women to network, and voice opinions and learnings across the wider business.
Be proud
If I was asked what advice I'd give to a woman who wants to be part of the agriculture industry, I would have to say, 'be proud'. Choose to challenge gender bias and equality, make the most of every opportunity and don't be afraid to get involved. Let those challenges drive your successes.
Frances Metcalf-Head, Graduate Management Trainee
I don't come from an agricultural background, having grown up in Watford, Hertfordshire. It was my passion for animals, however, that led to a week of work experience at a dairy farm and later on, a move to Nottingham to study Animal Science. It was here that my passion for agriculture flourished. As my campus was originally an ag college, it played a large part in my degree and lifestyle at university.
After graduating and a fair amount of deliberation around what I wanted to do as a career, I chose to complete a master's in Assisted Reproductive Technology. This led to a desk-based role in London and then a job at a human fertility clinic as an Andrologist. While both provided good experiences, I wanted more of a challenge and my heart always belonged to Animal Science, so I found the Genus graduate scheme.
Showing your worth
Ever since my week on a dairy farm, I have always wanted to know more. To combine my key interests, working with animals and reproduction. What's been interesting to see is just how much has changed since I did my work experience over ten years ago. I think, particularly with my generation, women have greater representation. In my career, I've been supported and are seeing other women being supported too.
Working for Genus and Promar, we are part of that change in mindset and we also get to see it on farm. Daughters are taking on a greater part of the business, versus the stereotype of a farmer's wife.
I still think there is some way to go. I have found that I have previously been given the secretary jobs as opposed to the manual ones. You can sometimes be treated slightly differently too, with farmers perhaps looking out for you more than they would do if you were a male. This could be seen as condescending, but I think you have to use that to your advantage and show your worth. Unless women push for it, change cannot happen.
Just go for it
As a woman in agriculture, I would say it's about knowing your capabilities and embracing them. If you want to break into the industry, then go for it. Don't even think about being a woman, just use all the skills and knowledge you have and prove your worth.