By George Peart
Our exit from the EU's Common Agricultural Policy means that huge changes are coming to UK agricultural funding. Most notably the government now wants to pay you, the farmer, for providing public goods. This includes, but is not limited to, carbon storage, increased biodiversity and flood risk reductions.
These concepts haven't yet been put into practice, making it difficult to evaluate the impact they'll have on farm. However, the rollout of the Sustainable Farming Incentive (SFI) Pilot is set to change that. Whether you feel excited by the shakeup, or fearful, the SFI pilot provides the very first chance to see the new systems in practice.
It provides an opportunity for you to help shape policy over the coming years and learn to make the most of future environmental schemes.
What is the new Sustainable Farming Incentive Pilot?
The Sustainable Farming Incentive was originally a part of DEFRA's over-arching Environmental Land Management Scheme (ELMS). ELMS has now been split into three separate schemes: The Sustainable Farming Incentive, Local Nature Recovery and Landscape Recovery. The SFI is defined by DEFRA as 'open to all' and 'a straightforward way for farmers to get paid for producing public goods'. It's been highlighted as the base level of all three schemes and the most viable option to begin this process with.
The SFI is open to farmers in England who are current recipients of the Basic Payments Scheme and are registered on the Rural Payments Agency system. A key part of this eligibility is that the land you are thinking of entering must not be part of any other payment schemes, e.g. Countryside Stewardship.
The pilot will pay farmers for delivering environmental benefits using the land they enter into the SFI scheme. The public goods that you could sell within the scheme need to fit into one or more of eight different areas:
Arable and Horticultural Soils
Improved Grassland Soils
Improved Grassland
Low and No Input Grassland
Arable Land
Hedgerows
On Farm Woodland
Waterbody Buffering
Each of these areas come with a number of minimum standards. These standards are split into Introductory, Intermediate and Advanced, with each respective increase meaning a higher price per hectare. The logic goes that by achieving these standards on your land in one or more of the listed areas, you will benefit the environment and thus the public.
The process will go as follows:
Identify your land parcel
Select which area of the SFI pilot scheme your land will fit into
Decide the level of standards you want to achieve (Introductory, Intermediate or Advanced)
Get paid monthly for meeting those standards, and therefore delivering public goods
As part of the co-design approach in the pilot, you'll also be regularly asked for feedback on how the scheme works and how it could be improved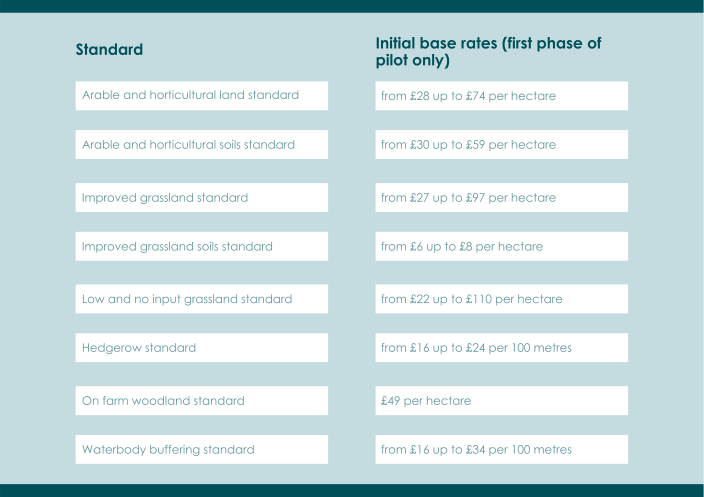 How to take part
If you are interested and eligible to take part in the pilot, you can submit an expression of interest by logging into your Rural Payments Service account and submitting a 'Sustainable Farming Incentive Pilot EOI' form.
The window for this is open now and will close on the 11th April 2021.
The form takes no more than five minutes to fill in and simply declares that you are interested in the pilot scheme. From there, DEFRA will randomly select several hundred farms and invite them to submit full applications.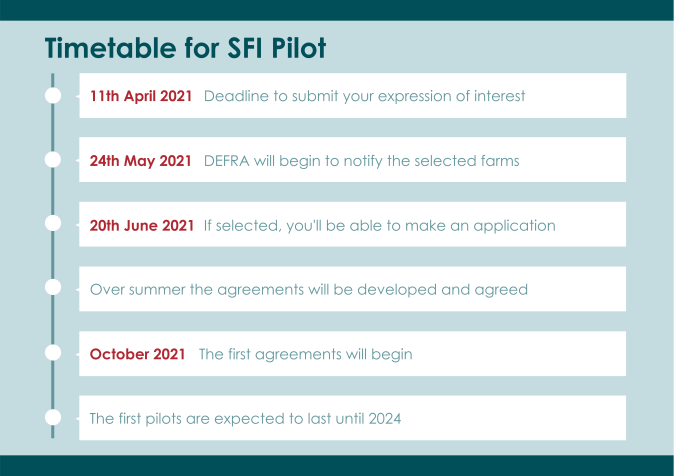 Making the most of change
The key is to see this as an opportunity to develop, to grow and to excel. By getting ahead of the game and assessing the benefits of these changes, you'll be in a powerful position going forward.
Our specialised sustainability, farm consultancy and business accountancy teams, are on hand to offer advice and support to help you plan for this new era of change. We can help you to review budgets, obtain funding from the environmental scheme and look at their natural resources.